Semicon China 2021 in Shanghai
Semicon China 2021 in Shanghai
Mar 17-19, 2021
SNIEC HALL N5 , BOOTH #5757
Semicon China 2020 in Shanghai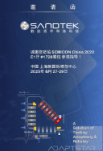 Semicon China 2020 in Shanghai
June 27-29, 2020
Hall E1, Booth 1729
World Semiconductor Conference 2019 Nanjing
May 17-19, 2019
NIEC, Nanjing, China
Semicon China 2019 in Shanghai

March 20-22, 2019
SNIEC, Shanghai, China
Semicon Taiwan 2018 in Taipei

September 5-7, 2018
TWTC Nangang Exhibition Hall, Taipei, Taiwan
2018 July
Chinese customers had selected the AdaptStar for testing high performance SOC devices in production. The AdaptStar was chosen for its higher multi-site capability and efficiency, replacing existing higher priced high performance testers.
2018 June
Sandtek testers are used to test high performance Bitcoin processors ICs in production. AdaptStar was selected for its flexibility and with just a single Digital instrument type, it can test high performance, high power IC such as Bitcoin mining processors.
Semicon China 2018 in Shanghai

March 14-16, 2018
SNIEC, Shanghai, China
2018 Jan
Sandtek installed AdaptStar at another OSAT in China testing consumer ICs. AdaptStar resources achieved more sites, thereby lowering the cost of test AdaptStar's unique architecture enables the highest multi-site efficiency in the industry.
2017 Dec
Sandtek installed AdaptStar High Performance SOC tester at a major OSAT in China specializing in mid to high end MCU test. The AdaptStar was selected for its unique IP protected architecture, high performance and throughput. Customer uses AdaptStar as a competitive advantage.